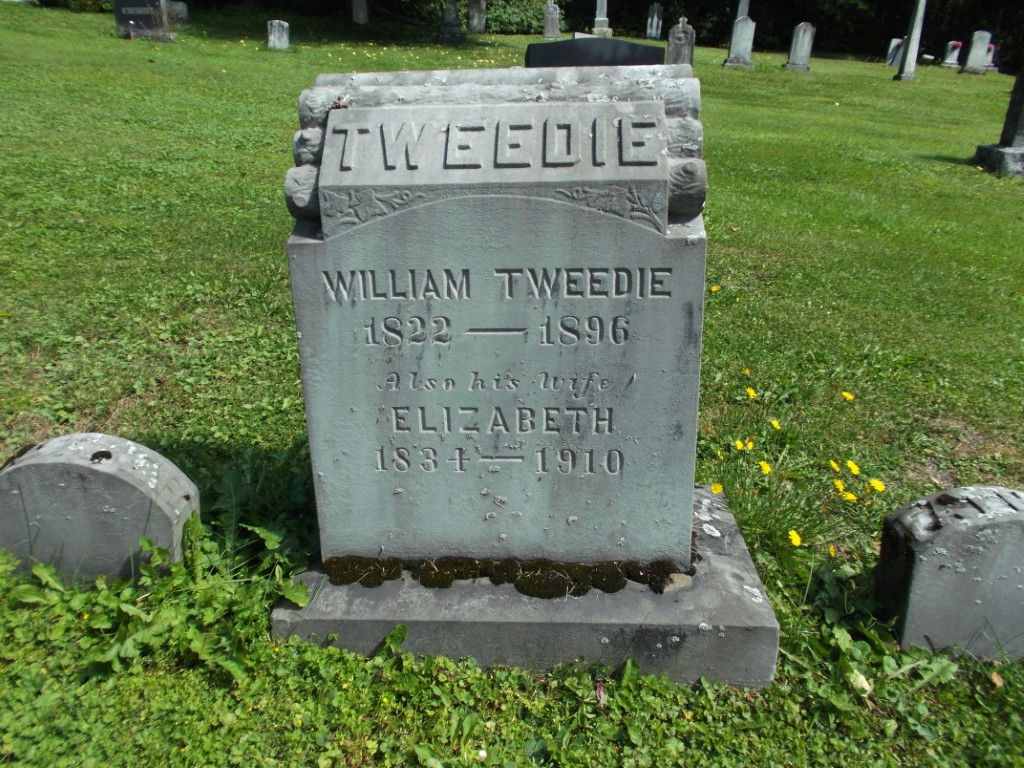 William Tweedie and his wife Elizabeth were early settlers in East Glassville, granted Lot 60 in 1869. William would have been in his forties at that time.
William died February 27, 1896 at East Glassville. According to his death registration, he was 74 years old, born about 1822 "at or near Lockerbie, Dumfries, Scotland". His death was reported in the Woodstock Dispatch on March 18, 1896 which noted he died "At his residence, East Glassville (Carleton Co.) 28th Feb., William TWEEDIE, age 73 years, a native of Dumfrieshire, Scotland".
Elizabeth was born about 1834 in New Brunswick, and died in 1910, likely in Woodstock, where she had been residing with her daughter Lavinia in 1901. No record of Elizabeth's marriage or death has been located. However, the death records of Mary Ann in 1928 and of Bessie in 1947 in Providence, Rhode Island (see below) say Elizabeth's maiden name was "Glasse", and Bessie's that she was born in Boiestown.
The 1871 census records William and Elizabeth along with two daughter, Lavinia, age 10, and Catherine, 8 months old. The 1881 census records what appear to be three daughters, Mary, age 20, Catherine, age 11, and Bessie, age 8. Because of the recorded ages, Mary and Lavinia may be the same person, however it is also possible that Lavinia has left home and that "Mary" is a niece or other relative. The census does not indicate familial relationship, and does reflect that Mary is employed as a servant. The 1891 census records only one daughter, Mary A., age 15, who would have been 5 ten years earlier. The East Glassville school lists do variously record Bessie, Kate and Lavinia in April 1878 and Bessie, Kate and "Mary Ann or Mary" in several subsequent years.
With respect to Lavinia, there is a reference in the Woodstock Carleton Sentinel on July 17, 1886 reporting a marriage:
"At residence of Frank RANKIN, Esq., Grafton (Carleton Co.), uncle of the bridegroom, Thursday morn. 15th inst., by Rev. Kenneth McKay, B.A., Henry R. McLARDY / Levinie TWEEDIE, both of Woodstock".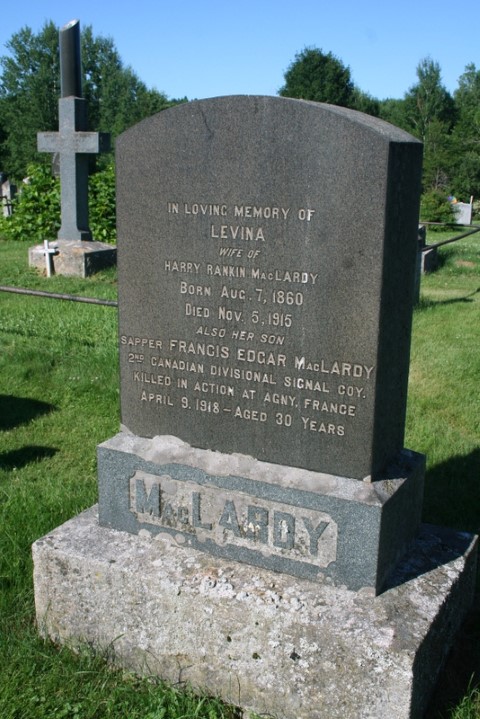 Lavinia McLardy is reported on the 1891 census for Northampton Parish married to "Harry" R. McLardy, with two children, Francis, age 4 and Jean, a daughter, age 2. Living with them is Bessie, then age 17. Harry is described a a "merchant" at this time. We find Lavinia again in the 1901 census for Woodstock, now listed as a widow, head of the household, born August 7, 1861 in New Brunswick. In the same dwelling are listed Mrs. William Tweedie, mother, widow, born October 5, 1833 and Catherine Tweedie, sister, widow, born July 29, 1872 (although we know from the 1871 census that she was born in 1870). Lavinia is listed with three children, Frank, born May 19, 1887; Jean, born February 6, 1889; and Donald, born December 12, 1891. Frank, or Francis, served with the second Canadian Signal Corps, and was killed at Agny, France, April 9, 1918. he is interred at Wailly Orchard Cemetery,II. D. 9., France.
Lavinia Tweedie MacLardy died November 5, 1915 and is interred in Northampton Kirk cemetery in Woodstock. Her headstone gives a birth-date of August 7, 1860.
A Kate Tweedie appears as a teacher in North Glassville – Centre Glassville School #3 in 1897 – 1898. This is likely Catherine. She married John H. Wiley of Jacksonville on October 30, 1901. Although the 1901 census lists her as a widow, she is listed by her maiden name, unusual at the time. The marriage registration is also in her maiden name, and lists her as "spinster", not widowed or divorced. Catherine and John had a daughter, Evelyn, in Wakefield Centre on February 28, 1907, who married Elmer Ray Nightingale of Hodgdon, Maine in June 1934.
Bessie Tweedie found her way to Providence, Rhode Island. She became a naturalized US citizen in 1922, having entered the US on May 10, 1894. Her US Naturalization record She appears in the 1935 Rhode Island census, which records her birth in Canada, December 9, 1872, which would be consistent with the 1881 census record above, and her burial record. Bessie died in 1947, and she is interred in Swan Point Cemetery in Providence. Her death registration reflects that she was single and worked as a nurse. It notes that she was born in Glassville, N.B. to William Tweedie and Elizabeth Glasse, who was born in Boiestown.
A fourth Tweedie daughter, Mary Ann, was reflected on the 1891 census at age 15. She seems to have followed Bessie to Rhode Island, where she also was employed as a nurse. She appears in the 1910 US census, boarding in Providence, listed as Canadian, age 30, occupation: nurse. She was naturalized on the same day as Bessie, having entered the US in 1902. Mary Ann died June 22, 1928. Her death registration gives her birth date as May 1, 1875, and Bessie, as the informant on the certificate, gives Elizabeth's name as "Glasse". She is interred at Swan Point Cemetery in Providence.
Lavinia Tweedie MacLardy's daughter, Jean, also became a nurse in Rhode Island. She married Stephen H. Fales and they resided in Bristol, Rhode Island, and are both interred in the North Burial ground in Bristol, RI.
William and Elizabeth are interred in Glassville United Church Cemetery.
View this family HERE, in Genealogies.